Important BI Trends in 2016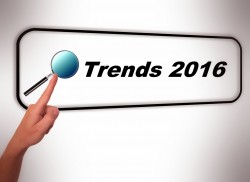 Business intelligence is continually changing, and this means that the role that BI plays within larger enterprises and even small to medium-sized businesses is also shifting. These days, BI is all about analyzing data mined from diverse sources, which enables businesses to develop deep insights based on the data that are designed to bring the company forward. Some of these changes are driven by trends in the BI industry that are especially prominent as we step even deeper into 2016. These trends are driving the product strategies of most BI providers today, and we will be seeing a continued increase in the number of solutions being made available to address them. Here is an overview of some of the most prominent of those BI trends:
Business Intelligence is More Accessible
The success of BI will be determined by how accessible it is for all of its users. Affordable BI solutions make it possible for companies of all sizes to benefit from it. It is no longer reserved for larger enterprises with a lot of money to spend. This means that companies who, at one time, could only afford simple solutions such as spreadsheets to analyze and make decisions are now able to use sophisticated BI tools to make decisions based on hard data rather than gut instinct.
Self-Service Options Expand BI
Self-service BI essentially makes data and information available to anyone who needs it, not just to analysts, data miners, or those in a corporate position. Now, other people, such as sales and marketing professionals, also have access to this information. Overall, this makes it far more likely that anyone involved with a business will play a role in making key decisions.
Visuals Are Becoming More Important
One of the biggest challenges with BI in the past has been the way information is gathered and displayed. In the past, data had been displayed using traditional reporting methods, such as in spreadsheets. This data isn't exactly easy to analyze for the average end-user, which is why BI was often reserved for specific analysts whose job it was to decipher these reports. That's all changing because now, there are more and more tools out there that deliver the information in a more dynamic and visual way, which means that the average user benefits from user-friendly interfaces that enable them to participate in BI, as well. These visualizations are becoming more widely available and using them will eventually be the norm.
Overall, the Business Intelligence and Analytics market is trending from IT-led reporting to business-led self-service analytics. We will continue to see more and more businesses transition to enterprise-wide BI platforms in an effort to generate greater business value from deeper insights that can be gleaned from widely varying data sources.