Using "Show and Tell" to Drive Business Intelligence Adoption
In the 30 y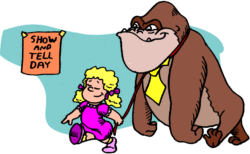 ears that my company has been in business, no challenge for IT and Business Intelligence (BI) professionals has been as pervasive as getting executives, business unit managers and front-line employees to buy into new ways to adopt and use business analytics.

Changing the mindsets of experienced people throughout the organization about what they should analyze, why, and how, is no easy task. How do you get someone with years of experience to let data into their decision process? And how can you get those who rely 100% on Excel to consider other analytical tools that can integrate with their spreadsheets and help them derive greater value and insights from their business information?
We've found that it helps to have a data advocate in the business unit or backing from the CEO or CFO to help fuel business intelligence adoption. We've also seen effective data visualizations persuade skeptic managers that analytics can help solve their problems.
Taking the Time to Explain BI Value to Employees
As it is, most companies probably don't discuss data very much with their employees. It would be great if analytics teams rallied employees to be excited about using data in their jobs. This could be done during webinar-style sessions where employees can see what operational or industry data is available to them and are provided with examples of ways in which they can glean insights from that data.
During these sessions you also have an opportunity to solicit employee suggestions for additional data sources to consider and new ways that the company could use both internal and external data. Some good ideas would probably come out of those discussions!
The Power of Proof-of-Concept Demonstrations
Requesting a proof-of-concept demonstration from a business intelligence vendor that specializes in analytical solutions for your particular industry can be an effective show-and-tell strategy, too. We do this often for prospective clients who need buy-in or budget approval prior to acquiring a BI solution. During the proof of concept, various stakeholders are shown how they can drive business value with analytics using their company's own data.
There is nothing more powerful than a working prototype that answers a couple of critical business questions that are top of mind for leadership. Align the proof of concept to a real-world scenario. This show and tell can be the tipping point that transforms the meeting from a funding 'ask' into a real dialogue about what leadership wants included in a solution. Plus, it engages participants since they can easily see and relate to your company's data.
Think back to when you were a kid. Was it more interesting to listen to the English teacher ramble on about dangling participles or to gather 'round the kid who brought in her pet gorilla (monkey) for show and tell day?
Maybe it's time to bring show and tell into the world of business intelligence and analytics so users can learn what's possible. Plus, while you're at it, you can learn about their needs and their capacity to consume and use business information.  In the end, the knowledge you glean from these show-and-tell sessions can help you provide your users with the information they need in ways that suit them best so you can drive greater business intelligence adoption as a result.