Cascading KPIs To Drive Business Performance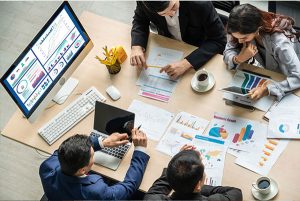 The practice of "cascading" KPIs aligns strategic objectives with business unit targets and performance measurements to drive positive results. This involves linking high-level objectives with departmental objectives and KPIs to create a clear line of sight from the top down.
In this 3-minute post, we examine some key business objectives and cascading KPIs that can be used to analyze performance to the objectives.  While many of the KPI examples focus on performance management for manufacturing and distribution businesses, they also apply to numerous other industries with similar operational structures.
For additional KPI concepts and best practices, we welcome you to download Silvon's Definitive Guide to KPIs.
Cascading KPIs for Sales
Strategic Corporate Objective:
Departmental Objectives:
Increase Sales Volume
Improve Sales Productivity
KPIs:
Sales Volume:

Number of Units Sold, Revenue Generated
Sales Productivity:

Number of Sales Calls Made, Average Time to Close a Sale
Cascading KPIs for Inventory
Strategic Corporate Objective:
Departmental Objectives:
Improve Inventory Accuracy
Reduce Inventory Holding Costs
Increase Inventory Turnover
KPIs:
Inventory Accuracy:

Cycle Count Accuracy, Shrinkage Rate, Stock-Out Rate
Inventory Holding Costs:

Carrying Cost of Inventory, Obsolete Inventory, Stock Turnover Ratio
Inventory Turnover:

Inventory Turnover Ratio, Gross Margin Return on Investment (GMROI), Days Inventory Outstanding (DIO)
Cascading KPIs for Purchasing
Strategic Corporate Objective:
Reduce Costs and Improve Supplier Performance
Departmental Objectives:
Reduce Purchase Costs
Improve Supplier Performance
KPIs:
Purchase Costs:

Cost Savings, Cost Avoidance, Cost Per Unit
Supplier Performance:

On-time Delivery, Quality Performance, Lead Time
Cascading KPIs for Production
Strategic Corporate Objective:
Improve Production Efficiency
Departmental Objectives:
Increase Equipment Uptime
Reduce Waste
Increase Throughput
KPIs:
Equipment Uptime:

Mean Time Between Failures (MTBF), Mean Time to Repair (MTTR)
Waste Reduction:

Scrap Percentage, Reject Percentage, Rework Percentage
Throughput Improvement:

Units Produced, Cycle Time, First Pass Yield
Cascading KPIs for Customer Relationship Management
Strategic Corporate Objective:
Increase Customer Satisfaction and Retention
Departmental Objectives:
Improve Customer Service Quality
Increase Customer Engagement
Enhance Customer Loyalty
KPIs:
Customer Service Quality:

Response Time, First Contact Resolution (FCR), Average Handling Time (AHT)
Customer Engagement:

Number of Interactions, Frequency of Interactions, Engagement Rate
Customer Loyalty:

Net Promoter Score (NPS), Customer Churn Rate, Customer Lifetime Value (CLV)
Cascading KPIs for Finance
Strategic Corporate Objective:
Increase Profitability and Financial Stability
Departmental Objectives:
Improve Revenue Growth
Control Costs
Optimize Cash Flow
KPIs:
Revenue Growth:

Sales Growth, Market Share, Customer Acquisition Cost
Cost Control:

Operating Expense Ratio, Cost per Unit, Procurement Savings
Cash Flow Optimization:

Days Sales Outstanding (DSO), Days Payable Outstanding (DPO), Cash Conversion Cycle
Cascading KPIs for Trade / Promotional Marketing
In this final example, here are some potential cascading KPIs for a trade marketing department:
Strategic Corporate Objective:
Increase Sales Volume and Market Share
Departmental Objectives:
Improve In-store Product Visibility
Increase Trade Promotion Effectiveness
Enhance Channel Partner Engagement
KPIs:
In-store Product Visibility:

Share of Shelf (SOS), Out of Stock (OOS) Rate, On-Shelf Availability (OSA)
Trade Promotion Effectiveness:

Promotion Sales Lift, Promotion ROI, Sell-through Rate
Channel Partner Engagement:

Joint Business Planning (JBP), Distributor Scorecard, Customer Satisfaction (CSAT)
The Bottom Line
Enterprise-level alignment using a waterfall / cascading model like the one above is very effective for driving business performance because it provides a clear distinction between tasks, generates synergy between organizational business units, and can facilitate effective communication at all levels. Employees also have a clear picture of their contribution to organizational performance which often leads to higher levels of engagement.
Fortunately, modern analytic tools like Silvon's Stratum solution offer pre-defined metrics and data visualization capabilities to simplify the process of creating and sharing KPI dashboards and reports to management and departmental teams throughout the business.
For additional concepts and best practices related to KPIs, feel free download Silvon's Definitive Guide to KPIs.