The Importance of Collaborative BI for the Next Generation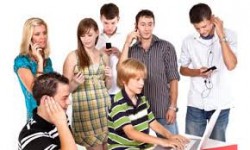 Look around you. No matter where you are – at the store, out dining, or attending a favorite event – you'll spot our future business leaders (today's teens) using social media while multitasking on-line. They're so well connected now that in the future, they'll expect the business software applications that they use on the job to be swift and collaborative, too. Business intelligence software is no exception.
Once they enter the workforce, today's Gen Z'ers will expect on-demand access to information … without having to think about it … and that data will be presented succinctly to them (think tweets!) with the ability to dig further and to share information with others at lightning quick speed.
Flexible Information Delivery provides for that by allowing for rapid communication of business performance information across all areas of the business. As a result, analysts and other users can better identify and solve problems when they first arise. It also allows for communication between business professionals and their partners, vendors, and customers. Sharing information and collaborating ensures that everyone is able to make use of data in order to achieve their business goals.
If your company does not yet have that level of collaboration, get ready. Our Gen Z'ers are learning quickly how to work with people they've never met, and they will want the ability to share reports, drill down on data and share specific points, and collaborate 24/7 on a global basis to help speed the process of uncovering relevant insights.
While the thought of today's teens driving tomorrow's business economy can be frightening (I have a freshman son in college!), we'd be remiss in NOT planning for the technology, software and tools they'll want (and need) to help them succeed as future business leaders. To help pave the way, we need to start adopting and learning from BI ourselves – not only to help us better plan and manage our own businesses or line of business areas, but to set the stage for our future workforce to come in, pick up and help improve on the efficiency and effectiveness of these technologies throughout the workplace.
The goal is to implement collaborative BI well before they become part of the enterprise so that when they finally become users, they can use the BI platform effectively out of the gate.