INSIGHT Web-Based Education (On Demand)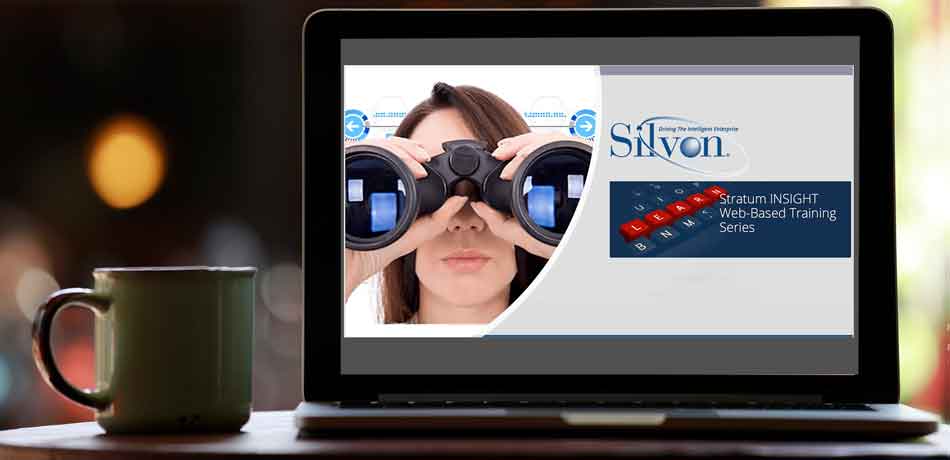 INSIGHT Recordings
Broadcast Manager — Automating Stratum Report Delivery & Alerts

2023-05-18
This INSIGHT class covers all of the steps you need to easily deliver Stratum reports and alerts to key users throughout your business. We show you how to distribute views via email and file share and the most optimal way to build alerts in Stratum that notify folks about business events that require their attention. In addition, we discuss and show you some of our newest features in Stratum 7.4 for managing broadcast actions.
View the Broadcast Manager — Automating Stratum Report Delivery & Alerts Video
Creating Power BI Visuals Using Stratum's Power BI Add-In

2023-11-09
If you use Power BI for building visual dashboards, you don't want to miss this session! During it, we take you step-by-step through the process of creating and displaying 3-to-4 drill-through visualizations of Stratum data within a Power BI report. Come see how easy it is to leverage your Stratum data in powerfully interactive, highly visual dashboards that bring your data to life!
View the Creating Power BI Visuals Using Stratum's Power BI Add-In Video
Building Graphical Dashboards in Stratum – Best Practices

2023-05-04
We invite you to tune into this session and discover the new charting features offered in Stratum Dashboards. During the class we highlight several ways to visually showcase your data using gauges and a variety of other charting options. We offer up some best practices relative to what's too much or too little when it comes to charting your data. We show you how to structure your charts so you can easily jump to views to see the underlying detail, and so much more!
View the Building Graphical Dashboards in Stratum – Best Practices Video
Tips & Tricks for Making Your Data Stand Out in Stratum

2023-01-26
During this session we dive into some of the "cosmetic" features of Stratum that you may not be well versed with but that can make a dramatic impact in how your Stratum data "looks" from a visual perspective. Some of the features that we cover in this class include the use of conditional formatting, coloring, data grids and other visualization options to help you make the data you want to emphasize in your views and reports visually stand out from the rest.
View the Tips & Tricks for Making Your Data Stand Out in Stratum Video
Managing Dimensions & Categories in Stratum

2023-09-21
During this class, we provide some tips and techniques for managing categories and dimensions in Stratum. This includes ways to manage unused dimensions and measures. We'll show you how to manage access to data attributes. We discuss easy‐to‐manage filtering menu options for your more populated dimensions. And we cover some new features from Stratum 7.5, including attribute formatting and glossary settings. This is the perfect class for new Administrators or for anyone who could use a little refresher on managing dimensions and categories of data within Stratum.
Stratum Year-End Maintenance

2022-12-15
Make sure your Stratum environment is ready for the new year by tuning into this session! We walk through the items to verify so you are ready for 2023, including new tables and calendars for new year review, calculations referencing previous periods, Connector updates, etc. Plus, we offer suggestions for getting your year-end tasks completed as effectively as possible.
Stratum 7.2 to 7.5 - A Review

2023-10-05
So many new features and enhancements have been added to Stratum over the past few years to make the tool more robust and streamlined to use. In this session, we review and demonstrate some of the key capabilities that have been added in Stratum 7.2 through 7.5, including Master Data Augmentation and User Controlled Attribute functionality to supplement your core Stratum data; the new Stratum View Pane with tabs to browse to Favorites, Recents, or All views; the popular Stratum Add-Ins for Excel & Power BI; the ability to do charting in Stratum Dashboards; a widely requested Stratum Glossary that shows you more details about the data behind your Stratum views; as well as new options for adding KPI data to your views. Tune in to check it out!
Preview of Stratum 7.5

2023-06-22
Tune into this session to learn more about our upcoming Stratum V7.5 release, including its new glossary that provides a broader understanding of the data included in your Stratum reports. We also show you how you can fine tune your reports with new filter types and easily monitor Key Performance Indicator (KPI) trends.
Review of Stratum V7.4

2023-01-12
Tune into this session to learn more about our current Stratum V7.4 release, including its new dashboard graphs with links to let you connect to related views for more detail. We discuss the enhancements we've made in the Stratum Broadcast Manager for automated report and alert scheduling. In addition, we talk about the integration Silvon is working on with Microsoft Entra ID for those of you who are planning to move your Stratum deployment to the cloud and are interested in how identity and access management can be handled.